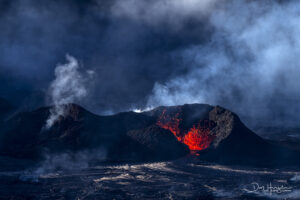 CJ Kale and I went out for an early morning mission to the caldera on Saturday September 16. We arrived at about 4am and found that the five active spatter cones on the caldera floor were now just one active spatter cone. We shot until sunup…and noticed the height and intensity of the fountaining was decreasing remarkably. We left at sunup…the attached photo is the last one I took. Very little fountaining was happening…and we were sure it would pause or quit soon. It did.
As of today, September 18…the eruption is considered over. Stay tuned…it will build up pressure…more earthquakes will happen and the fun will begin all over again. We will let you know then that happens.
Meantime, our blue skies have returned and Hawaii is in the slow part of the year. However, the Ironman is starting to bring people to the island and October marks the beginning of the busy season for us. Lots to look forward to…bigger surf, snow on the the Maunas, humpback whales returning in November or December and the likelihood of yet another eruption some time soon.
Aloha,
Don Hurzeler for CJ, Linda and Lava Light Galleries, Inc.