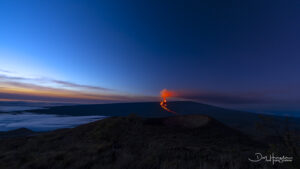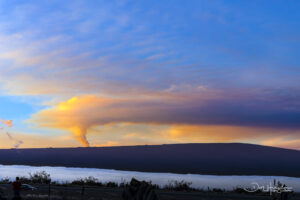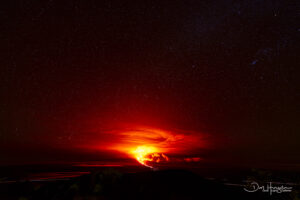 This is an informational blog for those of you on island or off who are still considering whether you should try to go see the Mauna Loa eruption. You should…absolutely.
Is there vog on the island…there is. We saw a big cloud of it well behind Kona as we returned from our photo session this morning at about 6:30AM. I looked sizable and dirty (actually looked quite lovely with the morning sun hitting it) and we know it was filled with smoke/dust and irritants. Thankfully, it was being carried away from Kona and out to sea…with our apologies to those on the neighboring islands.
Does vog cause health problems? It does…for some people. I suspect it is not good for all people, but for some reason it has never caused me a problem…and I have asthma. I've lived on this island for 15 years and have never been sick with a cold, flu or respiratory illness…not once. That said, I know others who moved off island due to vog induced problems. So…it is an individual kind of a thing. If you have in your head that all the people here are half dead from coughing up lava particles…you have it wrong. It is pretty much life as usual for everyone who is not sensitive to vog.
Questions I have been getting a lot are…Is it safe to see the lava? Are the crowds too much to bear?
It is really safe to see the lava…you are quite some ways from it and it does not shoot out like lightning and zap people, like in the movies. It is safe viewing.
Is it crowded? It has been massively crowded…and there was a steady stream of cars going to the viewing area when we drove out there at 3am this morning. Keep in mind it is Saturday morning here and many people have the day off. If you avoid sunrise and sunset…and now that the county has opened an excellent viewing option…it is no big deal. Yes, you will deal with some traffic, but it is not all that bad, except during peak hours.
One of the photos above has three white lines near the bottom. Those are lines of cars…taken with a 30 second exposure. The line on the left is the Saddle Road traffic coming up from Hilo at 3am. The one closest to the bottom on the right is the traffic coming up from Kona on the Saddle Road. The heavier line of traffic above that bottom right line are the cars entering the new viewing area. Very well done by our country people…it is making it viewable for all of us.
Photographers like certain conditions and light. For us, the best time to shoot is 3am to 6am and 3pm to 6pm. For the most part, the rest of the time we are elsewhere.
One last thing…Linda and I photographed the eruption from 3:30AM to 6:00Am this morning at about 9000 feet up Mauna Kea. It was "only" 45 degrees, but we froze to death, especially our gloveless hands and tennis shoes feet. Plan to dress warm. We will do so in the future.
Next blog…what camera gear to bring and how to best photograph the eruptions. Preview…you can get some very nice photos on an iPhone…I promise.
Aloha,
Don Hurzeler, for C.J. Kale, Linda Hurzeler and Lava Light Galleries, Inc.