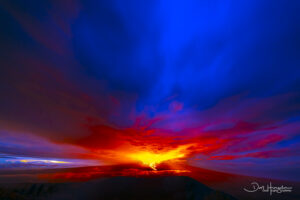 Writing this at 5pm Hawaii time on Friday December 9, 2022. It appears to me that the eruption is greatly diminished. It may be going on a pause or it may be going out. Could breakout in a new area, no way of knowing at the moment. There is still some lava at Fissure #3, but the volume is way down. I am going out at 3am tomorrow to get a better look at the situation.
Meantime, C.J. did a great job on CNN. Take a look at the link and you will get a good idea as to how we get the shots…it is not all pretty.
https://www.cnn.com/2022/12/09/us/mauna-loa-eruption-volcano-chasers-risk/index.html
We will be putting up a Mauna Loa Eruption gallery on this site today or tomorrow. We are also trying to get some prints rushed into the gallery. Kind of a crazy time for us and the gallery…but we are loving it. Aloha to all.
Don Hurzeler for C.J. Kale, Linda Hurzeler and the Lava Light Galleries, Inc.